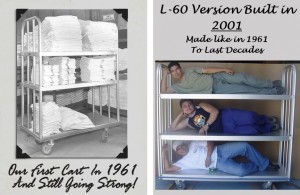 TECNI-QUIP LINEN TRANSPORT CARTS: RENEWABLE, RECYCABLE, SUSTAINABLE, and CONTAINS 30% POST-CONSUMER MATERIAL
TECNI-QUIP offers a variety of Open, Enclosed and Convertible Style linen carts in Aluminum fabrication. Since, our first linen transport cart was manufactured in 1961, TECNI-QUIP has gained the reputation of manufacturing durable carts that will last decades – and what could be greener than that? TECNI-QUIP Linen carts promise the following to assist your company in meeting GREEN STANDARDS:  
30% POST- CONSUMER MATERIAL:  Manufactured of USA milled aluminum alloy composed of 30% post recycled material.  
SUSTAINALBE:  Aluminum has an ENDLESS life cycle. As an element; aluminum it can be recycled endlessly -never losing it strength or composition. 
LONGEVITY:  Aluminum carts are repairable, thus making them an investment purchase and not a disposable item. TECNI-QUIP stocks parts and a list of all customer's past order – Facilitating fast repair of all models built since 1961. 
RECYCABLE: TQ carts can be fully recycled in your community, for a profit at the end of life cycle.
CLEAN AIR: As a Non- Petroleum Based Material,   Aluminum omits no toxic chemicals or impurities into the air, thus making it a healthier choice for your staff. 
NON COMBUSTIABLE:   A typical fire burns at 1,0000F not exceeding 18000 F  . Aluminum will not ignite but it will melt around 12000 F.   Poly and other flammable plastics ignite at 6500 F.  
NON-CORRISIVE:  Anodizing Aluminum – creates a smooth non-corrosive metal; there are various degrees of anodizing to select from, each can withstand various temperatures and conditions. 
Made in the U.S.A.: TECNI-QUIP factory is in a centrally located in Texas, making shipping to the any area of the country easy and efficient. Carts ship fully assembled, creating less work for your staff.